More fun together
Help with problem behaviour
That is why you have a dog, or you thought you wanted a dog in the first place. You wanted a buddy, a four-legged furry companion, but somewhere along the way, something went wrong. The way you had envisioned having a dog would feel like, is a big stretch from what it feels like today. In an age where information is literally at your fingertips, where there are so many available and accessible resources, you only feel more lost, confused, and insecure. And between all the noise of mostly conflicting information, you have a hard time distinguishing fact from fiction, but even more so, what is suitable to you and your dog's individual and unique situation. Stop, breathe, pause, get in touch.
Together we will explore and work on how to mend this situation, getting some fun and joy back into this relationship. 
Fed up with your dog's hobbies?
Maybe you have problems outside. He lunges and barks at other dogs, people, and doesn't seem to tolerate anything on wheels. Or your adolescent dog, did some redecorating of your home in a way you just can't appreciate, or is unreachable as soon as he is off leash. Honestly why are those ears attached to the side of his head? You thought he would outgrow this behaviour, but it's just not getting any better.
Or maybe your dog is pulling madly, fearfully scanning the environment to get back home as soon as possible, back to safety. But once home, she'd rather see visitors leave than come over. She makes it abundantly clear, barking from a just out of reach distance. Or maybe she just doesn't get out from under the couch. You gave it some time, but it looks like it's even getting worse.
Perhaps the thought of rehoming has past your mind…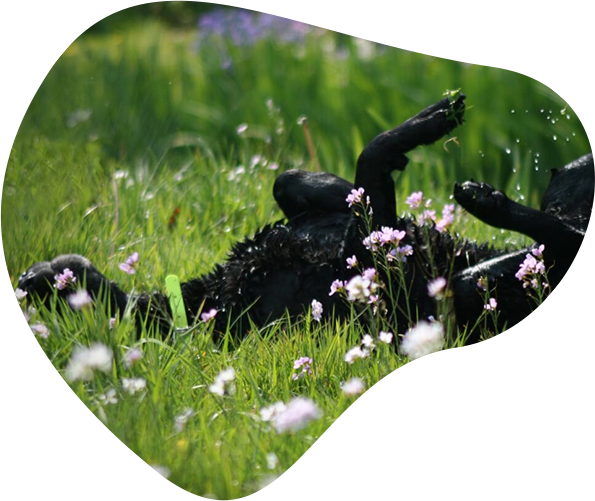 You don't have to tackle this problem alone!
… while the problem may even get worse. Get in touch to discover how I can help you!
Dogs with a hobby will help you get the most out of this relationship, the best for you and your dog.
What does that mean? I…
help you prevent problems;
work with you on a great relationship that you and your dog both enjoy!
monitor you and your dog's well-being;
help you understand your four-legged friend;
help your dog understand you too
I give you specific advice for your dog, in your situation and life and I give you the certainty about which steps are the right ones to solve or prevent the problem. You are not alone, I got your back!
This is how I can help you

What's the problem?
During a call you tell me about the problem you have with your dog. I can give you an indication if and how I can help you. We get to know one another a bit and we will see if there is a click. 

Bespoke solution
I make you an offer, which usually includes an in-depth dive during the first consult, and a series of follow up consults. You will also need to fill in a questionnaire to give me more details on what the problem is and other details.

I've got you covered!
We get started and after the first consult and assessment we will have contact regularly working on the problem behaviour. This will be live or online, depending on the type of problem, location and circumstances. In between the follow up consults we will keep in touch via telephone, e-mail or other services.
Now it's your turn
Humans and dogs have a unique relationship. Although we have something in common, we are very different beings. We differ in communication, in our own needs and in how we perceive the world. The world is becoming increasingly complex. That is complicated for humans, but even more so for our dogs.
So don't wait too long and get the help you need!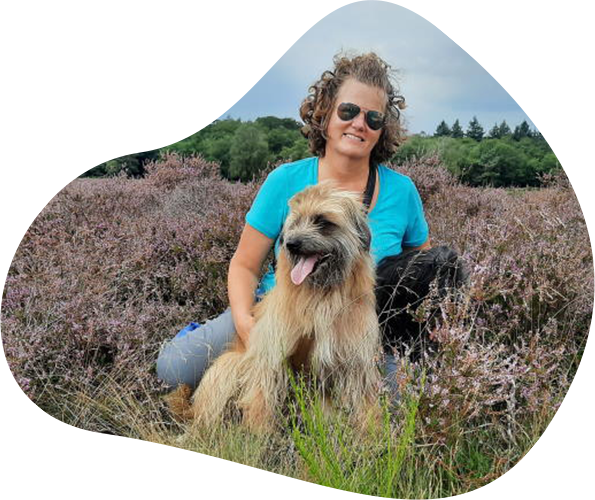 My name is Suzanne Rhebergen,
owner of Honden met een Hobby (Dutch for Dogs with Hobbies). The great thing about my job is that I can be busy with my biggest hobby, while I can stick to the things that are important to me: growth, knowledge, connecting/working together and freedom. My company is built on the pillars of wellbeing, science and practice.
 What my clients mainly see in practice is my curiosity, creativity, and analytical ability to help them prevent or solve problems. I have a great empathy for people and dogs and I work driven and tenacious. I make connections quickly and can switch quickly.
 I take working with customers and their dogs very seriously, but I do this with the necessary humor.